Titanium Bars
Product Detail
Video
Product Tags
Titanium and Titanium Alloy Bars
Titanium alloys can be divided into three categories according to the composition of the phases: α alloy,(α+β) alloy and β alloy, which are respectively expressed by TA, TC and TB in China.
①   The α alloy contains a certain amount of elements with stable α phase and is mainly composed of α phase in equilibrium state. α alloys have small specific gravity, good thermal strength, good weldability and excellent corrosion resistance. Disadvantages are low strength at room temperature, and they are usually used as heat resistant and corrosion resistant materials.In general, α alloys can be divided into full α alloys (Ta7), nearly α alloys (Ti-8Al-1Mo-1V) and α alloys with a few compounds (Ti-2.5Cu).
②   (α+β) alloy contains a certain amount of elements with stable α phase and β phase, and the microstructure of the alloy in equilibrium state is α phase and β phase.The (α+β) alloy has moderate strength and can be strengthened by heat treatment, but the weldability is poor.(α+ β) alloys are widely used, and the output of Ti-6Al-4V alloys accounts for more than half of all titanium materials.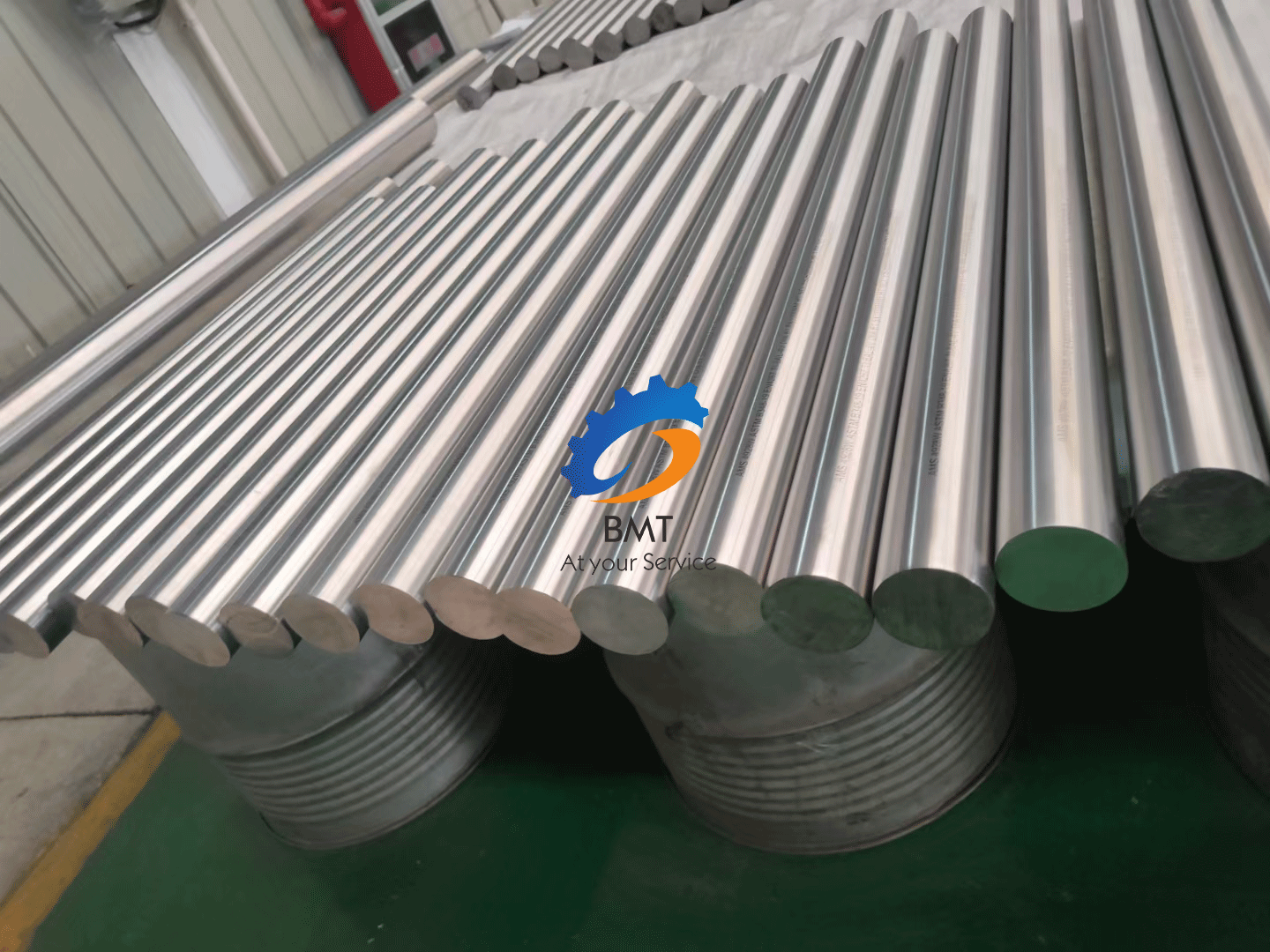 ①   β alloy contains a large number of elements stable β phase, high temperature β phase can be retained to room temperature.β alloy can be divided into heat treatable β alloy (metastable β alloy and nearly metastable β alloy) and heat stable β alloy.The heat-treatable β alloy has excellent ductility in the quenched state and can achieve tensile strength of 130~140kgf/mm2 by aging treatment.β alloys are commonly used as high strength and high toughness materials.Disadvantages are significant, high cost, poor welding performance, machining difficulties.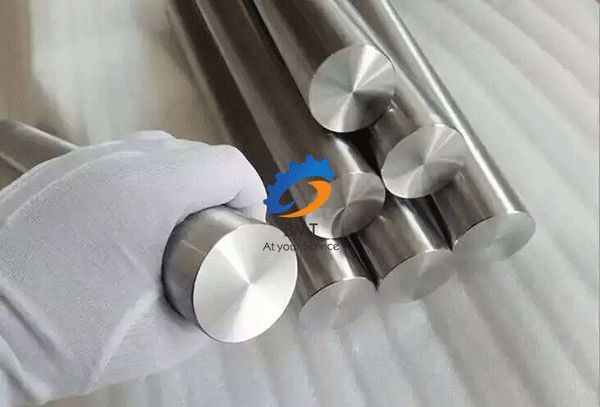 Citation standards
1: GB 228 Metallic tensile test methods
2: GB/T 3620.1 Titanium and titanium alloy grade and chemical composition
3: GB/T3620.2 titanium and titanium alloy processing products chemical composition and composition allowable deviation
GB 4698 Methods for chemical analysis of titanium sponge, titanium and titanium alloys
GB: GB/T2965-2007, GB/T13810, Q/BS5331-91
American standard: ASTM B348, ASTM F136, ASTM F67, AMS4928
Technical requirements
1: The chemical composition of titanium and titanium alloy bars shall conform to the provisions of GB/T 3620.1. When repeated testing is required, the allowable deviation of the chemical composition shall conform to the provisions of GB/T 3620.2.
2: The diameter or side length of hot-working bar and its allowable deviation shall conform to the provisions in Table 1.
3: After hot working, the allowable diameter deviation of the cold-drawn bar shall conform to the provisions in Table 2 after rolling (grinding) the polished bar and cold rolling.
4: after hot processing by the car (grinding) light bar of the roundness should not be greater than half of its size tolerance.
5: the length of the indeterminate length of the processed state bar is 300-6000mm, the length of indeterminate length of the annealed state bar is 300-2000mm, and the length of fixed length or double length should be within the range of indeterminate length.The allowable deviation of fixed length is +20mm;The length of the double length shall also be included in the cut amount of the bar, and each cut amount shall be 5mm. The length of the fixed length or the length of the double length shall be specified in the contract.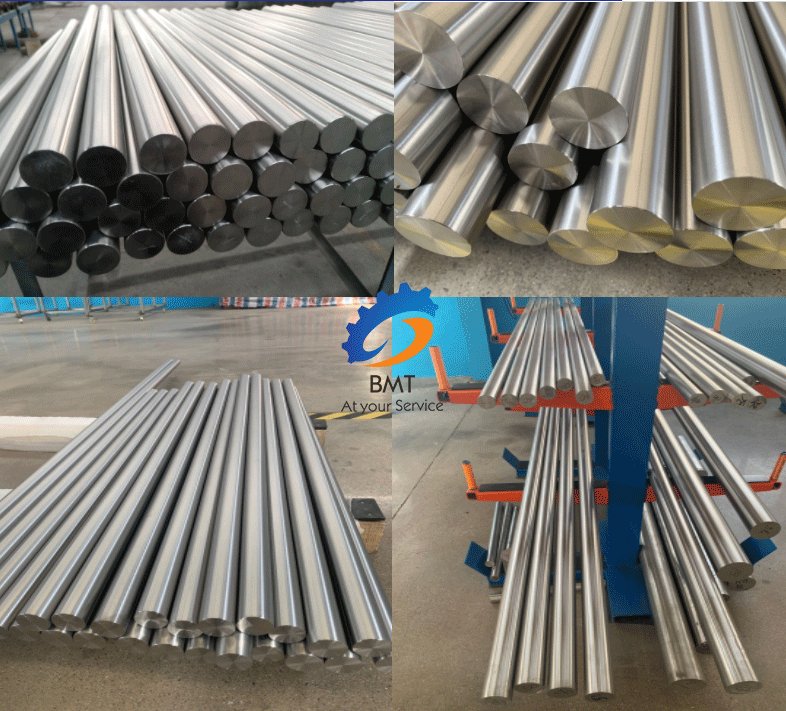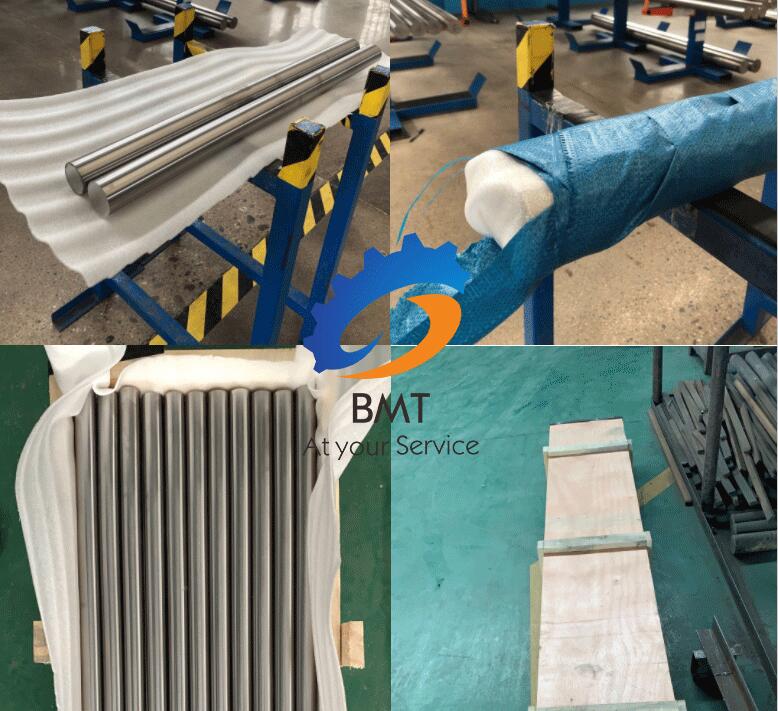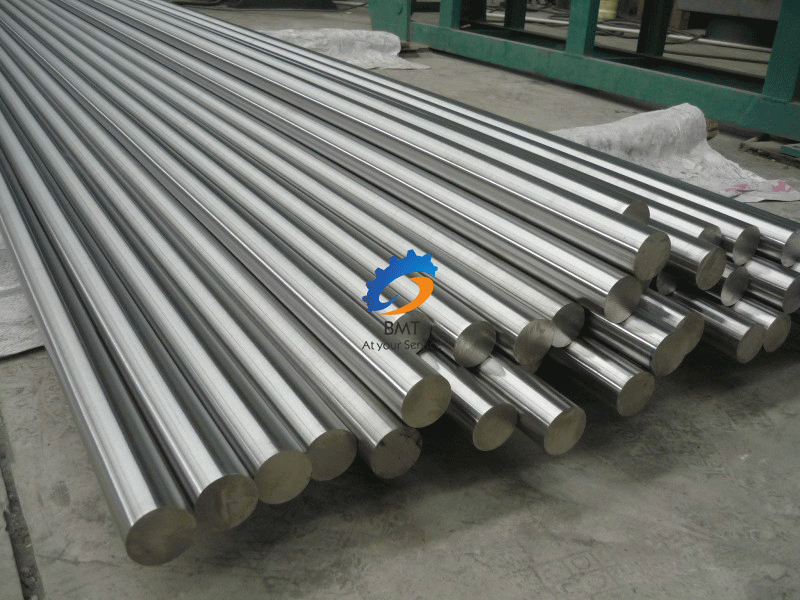 Specifications:  rolling ¢8.0-- 40mm× L; Forging ¢40-150 - mm x L
Metallographic structure: pure titanium grain size is not less than grade 5, TC4 titanium alloy in line with A1-A9.
Surface: black surface, polished surface, polished surface (H11, H9, H8)
Performance of medical titanium rod (reference standard :GB/T13810-2007,ASTM F67/F136).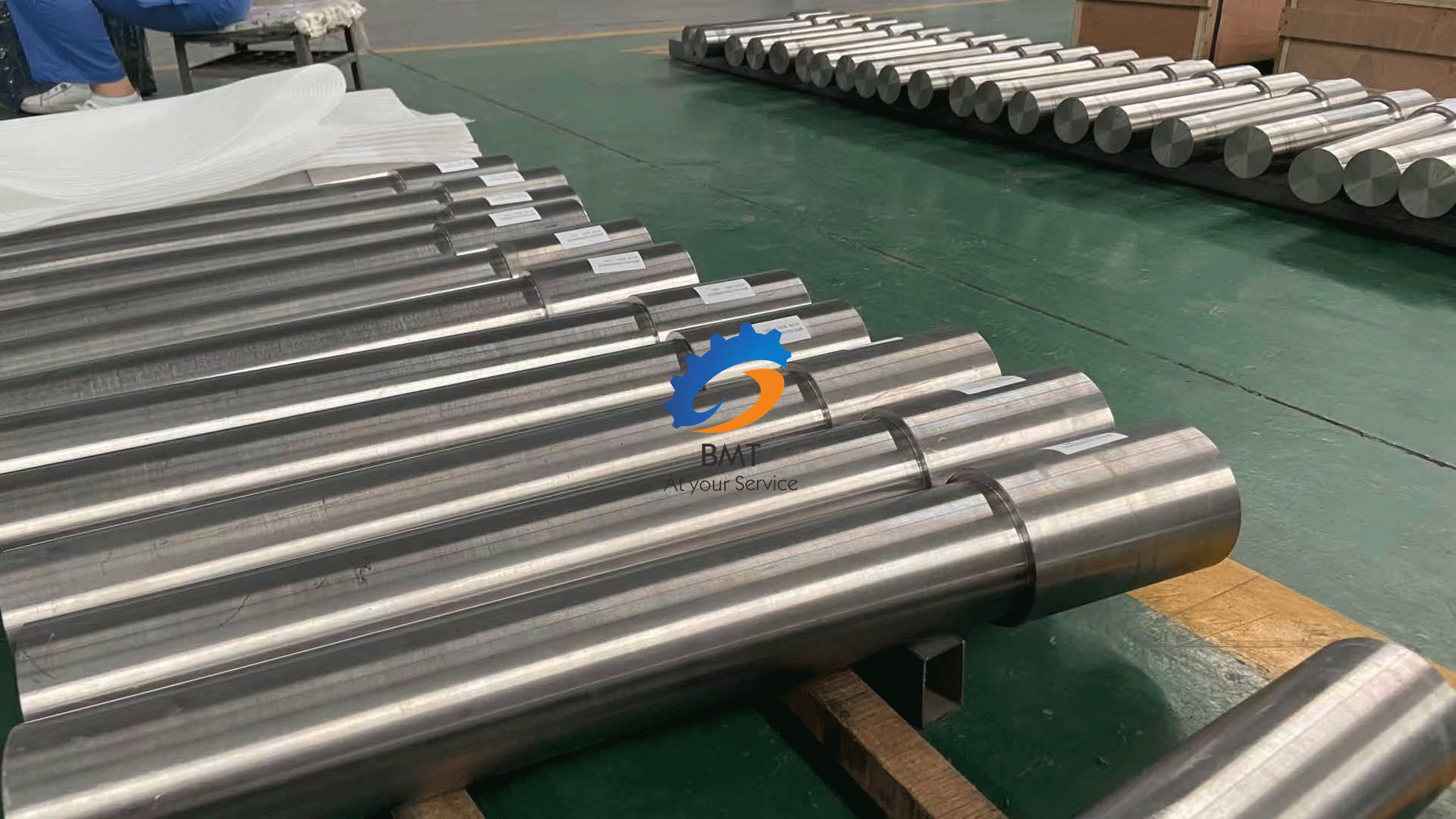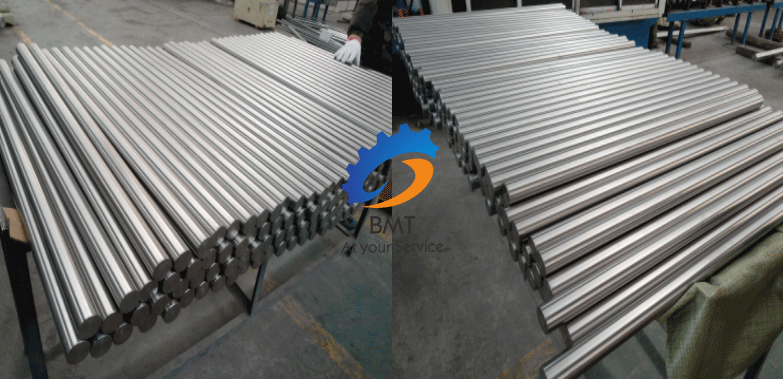 We perennially produce and export ASTM standard titanium bar and Chinese Standard (GB) standard titanium bar, and titanium bar of mutually agreed standard.
Being on of the few manufacturers that can realize quality control on the whole production process, we execute strict quality control all the way from the raw material smelting of titanium sponge to the finished products.
Having premium quality and impeccable tracking and service, we sell products including medical titanium bar, titanium polishing bar and titanium alloy bar all over the world. We have become one of the biggest suppliers and exporters of titanium bar in China.
Size range: Diameter 6-200mm x Max 6000mm
Room temperature properties of titanium rods for medical use GB/T13810-2007: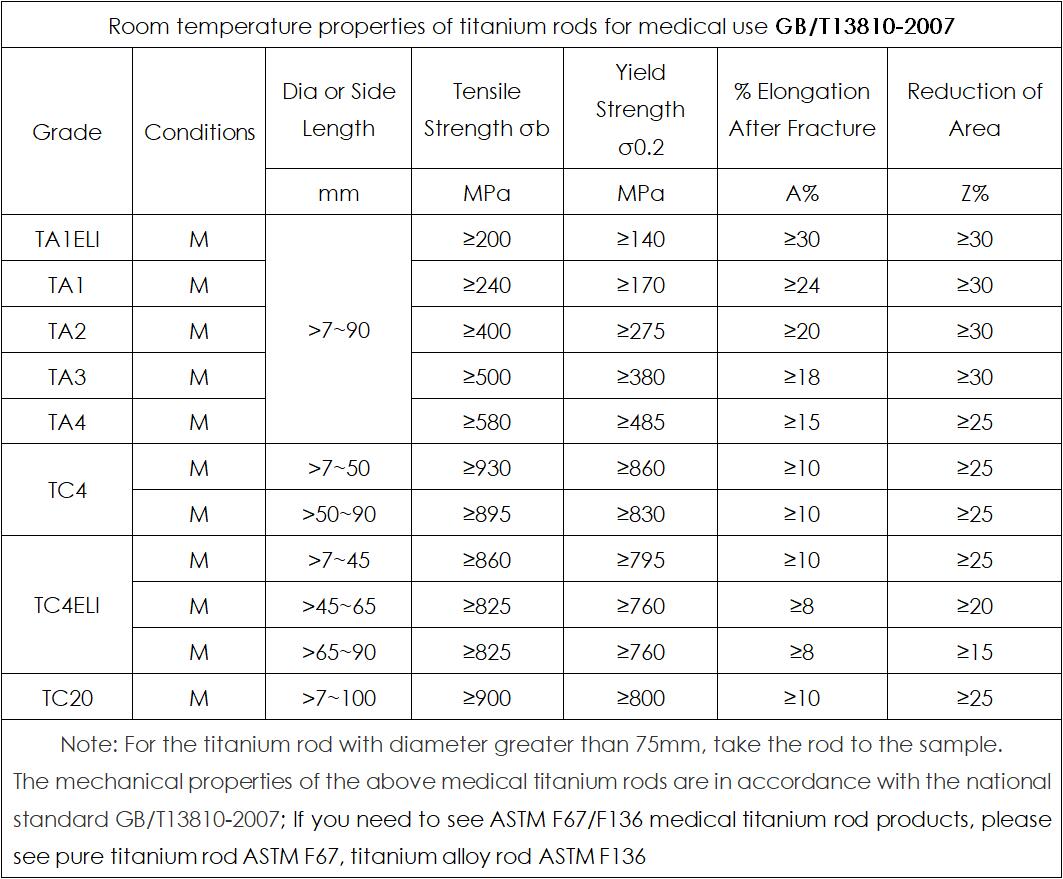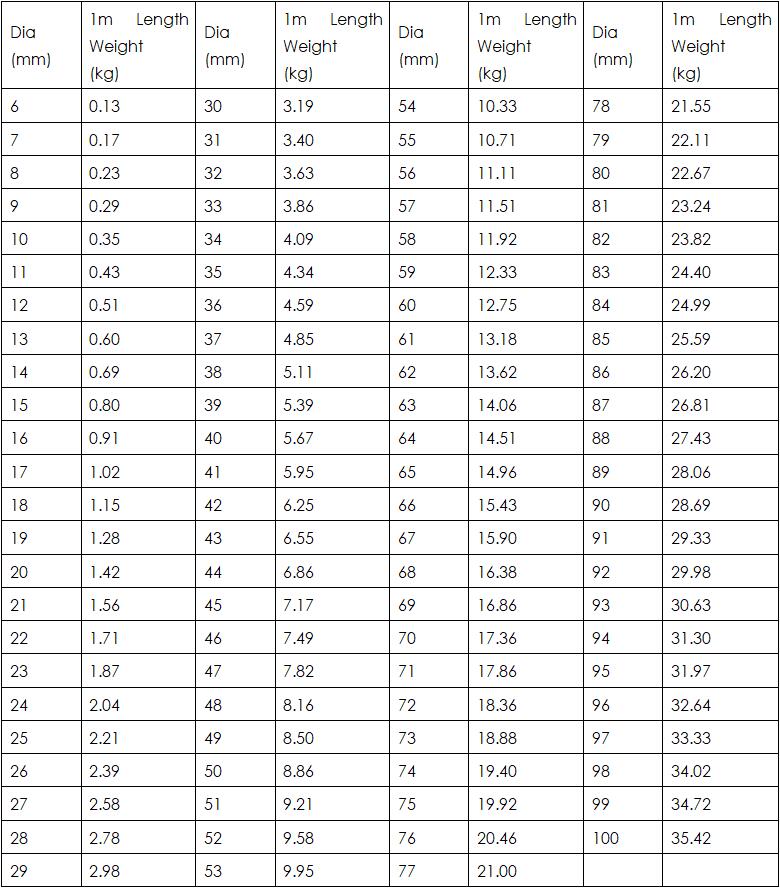 Dimensions, Tolerance and Ovality Range: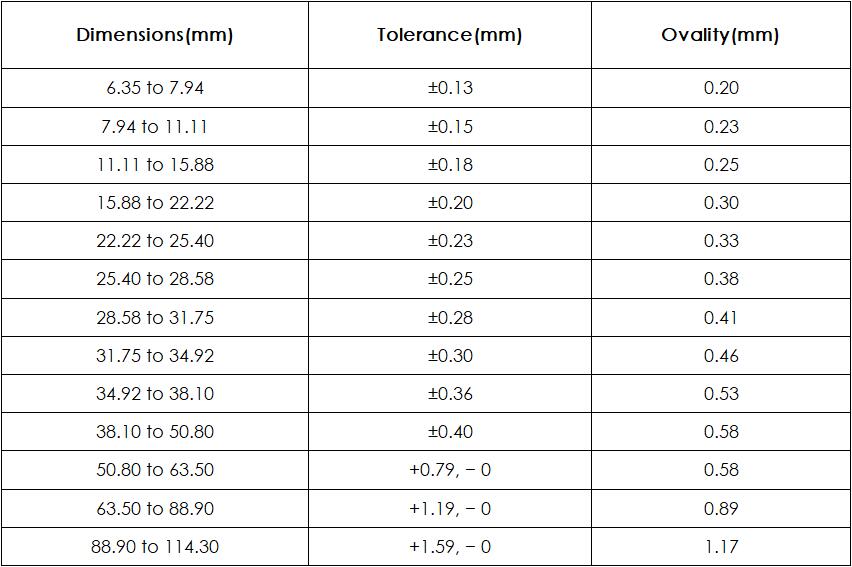 Available Material Chemical Composition

Available Material Chemical Composition

Inspection test:
NDT Test

Ultrasonic Test

LDP Test

Ferroxyl Test
Productivity (Max and Min amount of Order): Unlimited, according to order.
Lead Time: The general lead time is 30 days. However, it depends on the amount of the order accrdingly.
Transportation: The general way of transportation is by Sea, by Air, by Express, by Train, which shall be selected by customers.
Packing:
Pipe ends to be protected with plastic or cardboard caps.

All fittings to be packed to protect ends and facing.

All other goods will be packed by foam pads and related plastic packing and plywood cases.

Any wood used for packing must be suitable to prevent contamination by contact with handling equipment.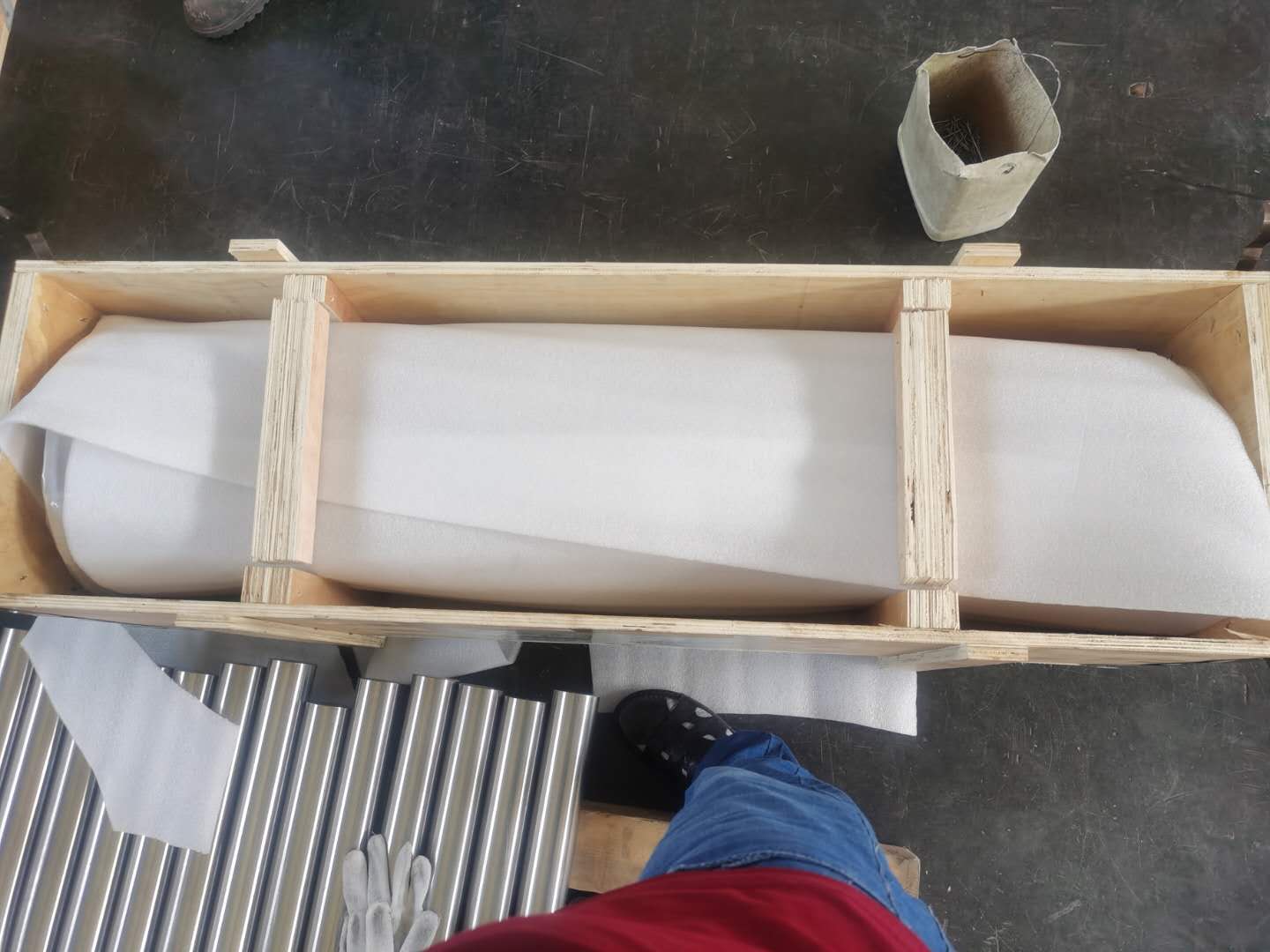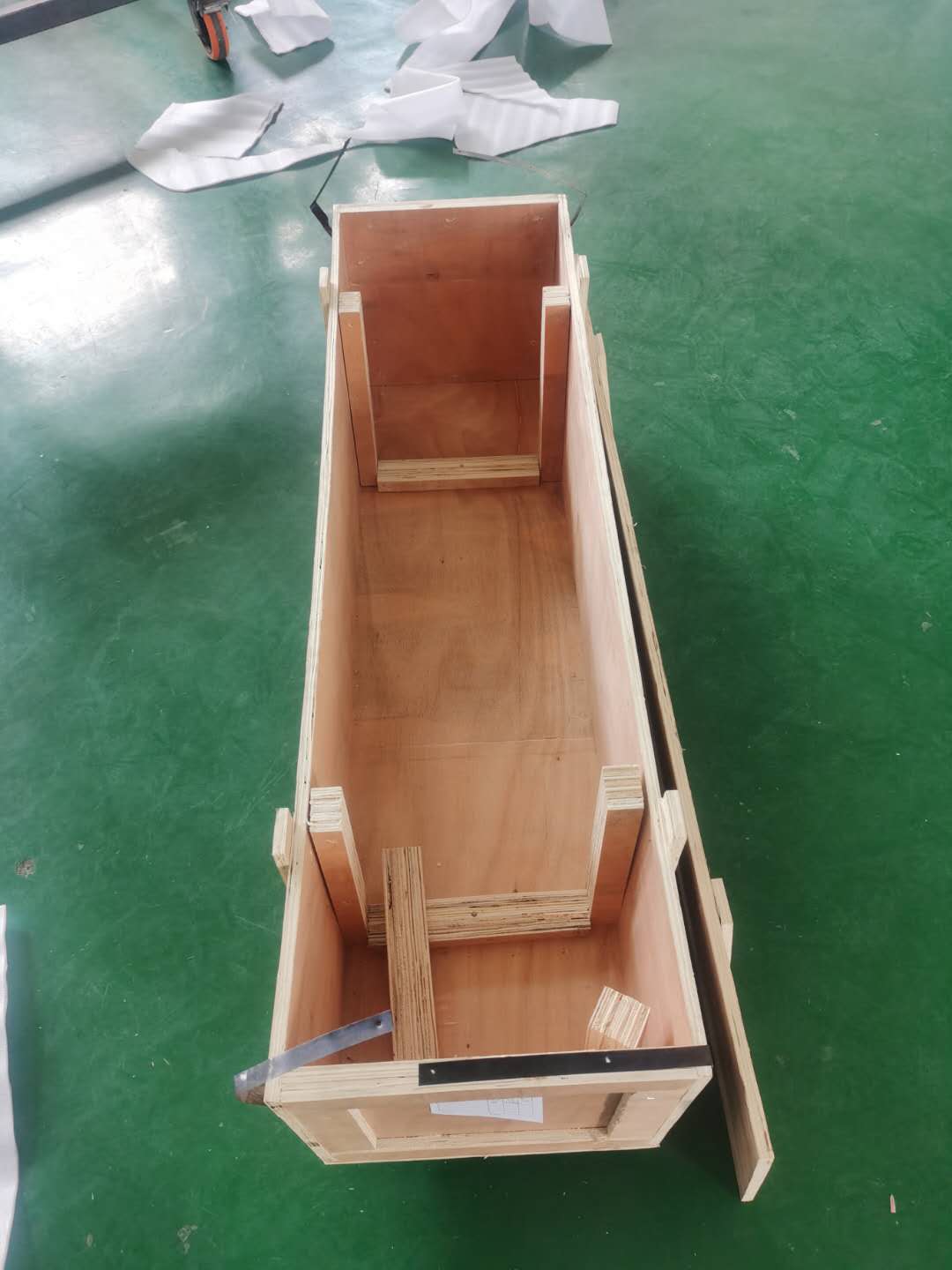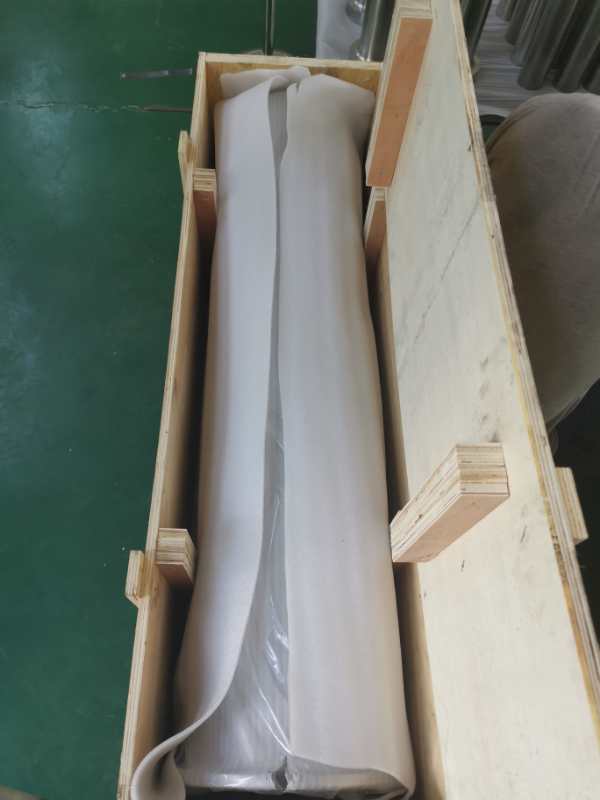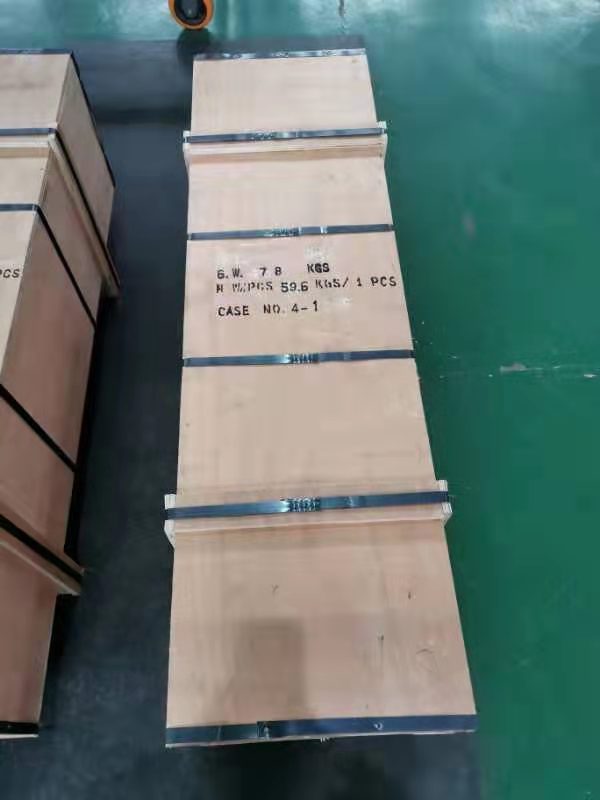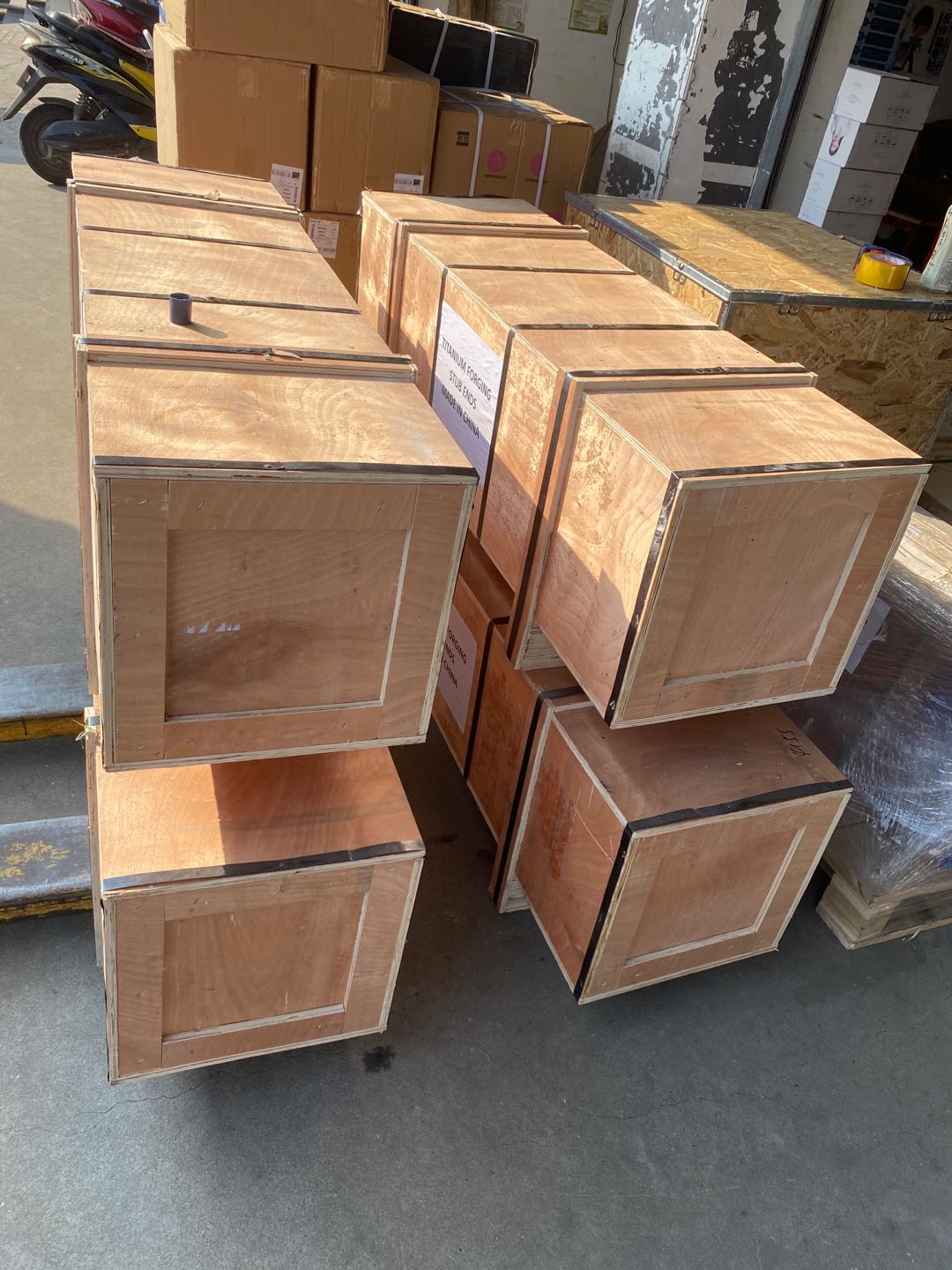 ---
---
Send your message to us:
Write your message here and send it to us